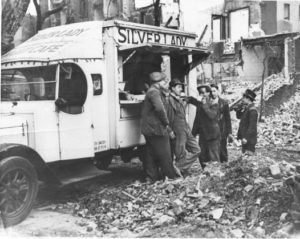 A book being written about World War II memoirs will recall the support given by The Silver Lady Fund during The Blitz.
The book's author Keith Munro recently contacted the charity to tell them about an excerpt taken from the journals of the late Private Charles Dunning in which he wrote about his appreciation of the work done by The Silver Lady Fund's mobile canteen.
Here are his own words:
"I saw many incidences in the blitz and I believe I am going to bring to light many things which happened.  And I wish to ask my readers, especially those who lived in the London area, "How many knew of the van called 'The Silver Lady'? I don't know who ran them.  But I would like to know, so they would know my thanks. They used to give hot soup to those who slept on benches on the Thames and they used to follow the Firemen, when they was dealing with fires, and hand around tea and coffee. I myself was watching them and they was cheerful.  Remember they would be out when raids was on. And I believe I am right when I say none of them was hit."
Charles's memory is a fascinating insight into this important aspect of the charity's work and is a heart-warming reminder of how the charity has touched many lives over its 135-year history.
Interestingly, the war saw a change in the police's policy towards the operation of the van.  In the 1920s the charity was under threat of being summoned to court for the vehicle being stationary on the carriageway so had to be ingenious to keep it moving while still serving the poor. The fitting of a special gearbox in 1927 enabled the vehicle to travel at only a quarter of a mile per hour so food and drink could still be served to the poor whilst in motion – no easy feat!
The picture accompanying this article shows one of the vans during The Blitz, handing out tea and sandwiches to those affected, including police and firemen.